No matter where you are in your professional career, whether that be as a recent grad starting your first gig, a dedicated employee who has been working at the same job for years, or you're beginning a new chapter in your life as an entrepreneur; a mentor can make a valuable imprint on your career and life trajectory. It can open networks and opportunities beyond your immediate reach and can give you the tools and confidence to promote yourself and develop professionally.
According to Sun Microsystems, in a study following 1,000 employees over a five-year period- those who received mentoring were 20 percent more likely to get a raise than their peers who chose not to participate. Additionally, mentees were promoted five times more often than those employees without mentors.
In our personal lives, we tend to have mentors naturally, people we go to for advice or to discuss a potential decision. It can be profoundly beneficial to have 'that person' help you understand a different perspective or avoid a miscalculation. So why not incorporate this wonderful relationship in our business life as well?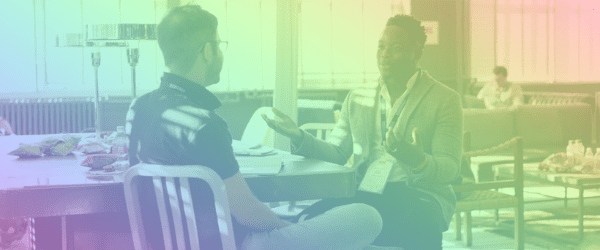 Sometimes, we acquire our mentors in business almost instinctively and other times we need to seek them out. A mentor for your professional life can be your boss, co-worker, someone who works in the same field as you, a teacher or anyone whom you trust. Most importantly, the right mentor is a valuable role model who can help you see possibilities and play to your strengths to navigate a better path ahead.
"Mentoring has proved so beneficial that 71% of Fortune 500 companies offer mentoring programs to their employees." – Forbes Magazine
When seeking out a mentor, find someone to guide you that not only has the ability but the availability to commit time and energy to the relationship. And ask yourself these questions:
• Do they have the industry and organizational expertise to deepen and develop my knowledge in my area of interest?
• Do they think differently than me and challenge my thinking?
• Will they help develop my strengths and weaknesses along my career path?
• Are they willing to share their experiences of success and failure?
• Do they hold the same values as me?
• Will they be active listeners and ask open-ended questions?
A mentor should be a great listener and advisor offering honest feedback, typically based on lived experiences. If someone automatically comes to mind, why not reach out and ask? Nothing is more complimentary than being asked to help guide someone to their goals.
At Levvel, you could say mentorship is in our Co-founders' DNA. Connecting people, learning about new business innovations, and offering unique experienced perspectives are what Brian Milloy loves about mentoring. For the past 15 years Brian has been involved with Futurpreneur Canada. And he admits he often learns just as much from the new business owners he mentors.
" Different people think in different ways and they bring diverse insight. If both parties are open, you can learn an awful lot if you're willing to listen, explore new perspectives, and are humble."

Brian Milloy CEO & Co-founder of Levvel.
Learning and developing is an integral part of succeeding in any field and having someone there to evaluate and re-evaluate at various business check points, is priceless.
So, think of a mentor/mentee relationship like any other, it takes effort. It's important to communicate how you learn and process information, as well as ensure that you are open to hearing feedback from your mentor, positive or not. Creating successful mentoring relationships requires specific skills, sensibilities, and structure from both the mentor and the mentee.
As a mentee you too have an accountability check list.
• Be clear about your goals, objectives, and responsibilities.
• Be willing to listen, accept tough love, and act upon it.
• Be open to learn and try new things.
• Be committed to upholding your end of the bargain, after all your mentor is giving up their time.
• Be ready and willing to meet on a regular basis and be accountable for progress points.
By now you have a clear picture of the relationship. Follow these tips to develop a strong relationship with your mentor and take your business life to new levels.
• Sit down with your mentor and openly discuss the expectations of each of you.
• Identify where you would like to take your career.
• Lay out your short-term and long-term goals.
• Outline support needed and offered for you to achieve these goals and plans moving forward.
• Discuss how you will part once a successful outcome has been reached.
Then set parameters around meeting times, confidentiality, and accountability. Now is the time to practice your skills as an avid listener. A good mentor will offer advice and guidance but let you make the decisions for yourself. Commit to certain steps in your development towards your goals and discuss risks and rewards to keep on the trajectory of meeting your end goals.
You can never be too smart, too informed, or too old to have a mentor. So why not have someone on your team who offers support, varied experiences, and a different perspective. It's sure to enhance your career and professional life. No question it takes work and commitment, but it is well worth the effort. Whether you are the mentor or mentee, it's a win-win for your career.
~Cherene Kambeitz, Marketing & Communications Director – Levvel inc. Reach out to Connect@levvel.ca