Covid has changed a lot of things, one being how we work. When the pandemic began and pushed us all into our homes with stay-at-home work orders, we scrambled to find space on our kitchen tables and counters, checking Pinterest for "how to turn my walk-in closet into a small office." It was chaotic for many. BUT now that we're years in, we've found that balance we didn't know we were missing, and stats indicate productivity has thrived in the work-from-home environment.
So, where does that leave the work model for organizations with restrictions (knock on wood) lifting? Recent polls have shown that 57% of employees expect to be in the office 10 days or less each month and 97% want changes to make the office safer before they return.
In comes the hybrid workplace model, mixing in-office and remote work to offer employees flexibility and support when they need it. And luckily, the benefits are plentiful, for companies and their people.
The employee appreciates more independence and a better work-life balance, increasing job satisfaction and happiness, which improves performance at work as well as overall employee well-being. Hybrid employees tend to be more engaged, leading to less turnover which reduces costs for organizations. This more productive, healthy, happier, and stable workforce is what many organizations have been trying to achieve for years. The formula is simple…happy employees = better productivity.
Companies are finding this increase in employee productivity is due to the employees' ability to choose work hours and location, experience fewer interruptions at home than in the office, appreciate the time and costs that come with commuting , and the choice to come into the office when needed. There is also the benefit to the company in reduced overhead costs, from office space, equipment, and supplies to employee expenses like parking, mileage, and meals, and even the company coffee service. These expenses have significantly been reduced.
A FlexJobs survey released in April, which polled more than 2,100 people who worked remotely during the pandemic, found that 58% would "absolutely" look for a new job if they couldn't continue remote work in their current role. Just 2% of respondents said they wanted to work in the office full time.
Over the last year, businesses and organizations have either shifted or are planning to move into a hybrid workplace environment. Is your company going to be one of them?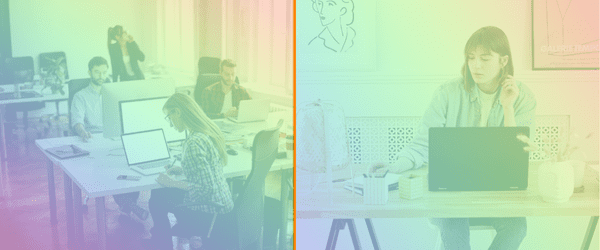 Here are 10 ideas adopted by employers to help build a people-centric workplace experience.
1. A workplace redesign. Spaces that allow for collaboration and permitting solo tasks for remote working. Others plan to cut back on office space entirely.
2. Reducing or eliminating shared desk space. Many companies had previously allowed desk-sharing by several employees. Either on shift work or sitting across from or beside another employee. Personal comfort aside, mental, and physical health considerations are taking precedent and employers need to be "tuned into people's mental health" as some staff return to the office.
3. Offering flexible hours. For employees that require them to deal with childcare or eldercare during part or much of the day / evening. Understanding that productivity happens at 'off' hours too.
4. Supply and support. Employers are offering solutions to connectivity, technology, security, storage, and networking to make work accessible and productive from anywhere.
5. Hiring based on skills. Employers are not sourcing talent based on location and can recruit the best people from anywhere. This supports workplace diversity by finding people with different experiences and cultural backgrounds beyond commuting distance.
6. Trust and equality. Historically, managers have rated in-office employees as higher performers, despite little evidence of better results. Remote senior leaders show the team that flexible work is not only normal but something that even the most senior people embrace.
7. Take core values beyond the halls and walls. Weave them into a shared digital space. This could include giving examples of online behavior that demonstrates each value, so employees have a clear understanding of what the values represent.
8. Prepare for change. As Levvel's Organizational Change Solutions team can attest to, change is constant, and employers need to proactively adjust the culture to retain people. Open to adapting will result in a culture that is more resilient to future disruptions, and more inclusive of different employee needs and working styles.
9.Keep communication open. Ask employees for feedback on schedules, changes to the workplace that may impact them, technology needs etc. Ensure your people know what's going on with the workplace amid broader organizational changes and allow them time to mull things over and weigh in.
10. Inclusive team building. Organize workplace activities that include in-person and remote workers. Try a virtual karaoke contest, external guest speaker, or casual happy hours. Create a platform for a daily photo challenge or trivia question of the day.
Although these may seem like small steps, as a workplace leader, it's your job to ensure that workplace communications, technologies, space, and experience all operate smoothly to build a place that meets employees needs for flexibility, and a company they want to work for.
~Cherene Kambeitz, Marketing & Communications Director – Levvel inc. Reach out to Connect@levvel.ca
Keep Calm & Levvel On.
Learn how we keep Business in Balance every day.
Subscribe now for Levvel insights and info.
Are you ready to take things to the next level?